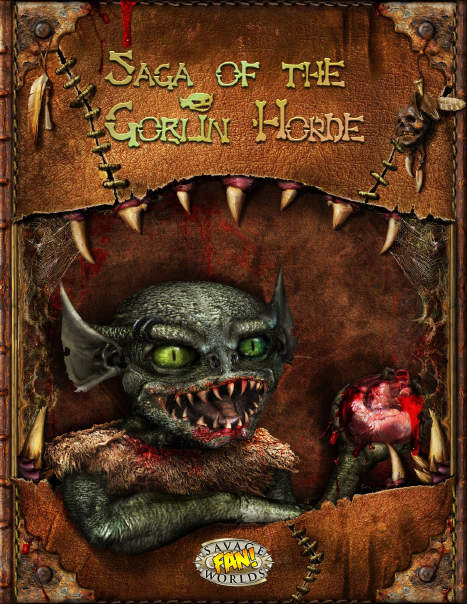 I've written about
presentation and supplement design
in the past, and I've been applying those concepts to my new releases (such as the updated
Savage Frost Giants
,
Eldritch Weapons
, etc).
However until now I've only used stock art - and while stock art can often be very good, it's not
unique
. For interior artwork this isn't such an issue (in fact even most Savage Worlds licencees use stock art to at least some extent), but I really think it's important to have a unique front cover.
So recently I decided to commission my first piece of custom work, a cover (front and back) and interior page design for my upcoming
Saga of the Goblin Horde
setting.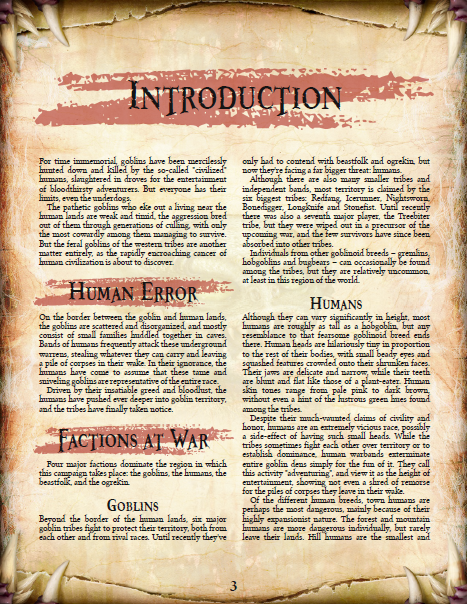 While there are a lot of talented artists in the RPG community, when it comes to covers, my favorite is
Lord Zsezse Works
. They sell a wide range of
Template Packs
, and I've been using those in most of my recent Savage Worlds supplements, but they also offer custom-made covers.
I requested a cover with blades and blood-splatters, a color-scheme that would fit with a parchment-style interior paper design, enough space for a logo at the bottom and the title at the top, and a layered effect for the top and bottom, with a goblin portrait in the center.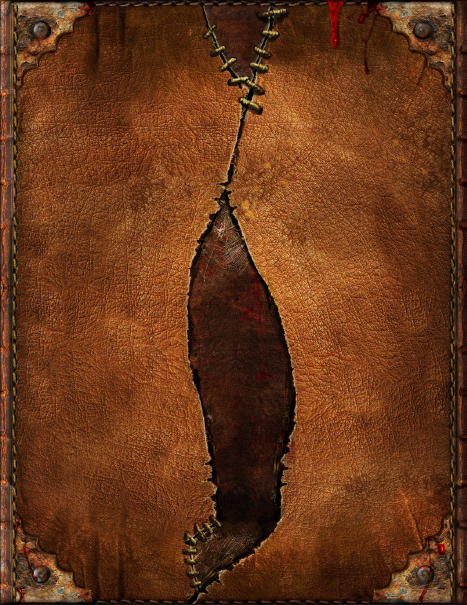 I included
a very rough sketch
of what I had in mind, but said it was just a guideline and that I trusted their judgement, as they clearly know what works and what doesn't (and, as can be seen from my rough sketch,
I'm
no artist!)
They kept me updated as they progressed to make sure I was happy with the direction it was taking, and to see if I needed anything changing, and today I received the final version (as you can see from the screenshots in this post)
I'm really pleased with the results, I think the cover does a great job of capturing the feel of the setting!